The harvester and grape grower Antonio Cajide Gulín, come from

one long tradition. From year 1999 he decides dedicated completely to this exciting world (to its wines, vineyards, mounting its present warehouse of Harvester).
In this warehouse it tries to have present the more traditional systems of work and than we learn of our ancestors, but always with the advances that at the present time are developed for the enology, maintaining therefore a bond between the Origin, Tradition and Quality, fundamental pillars in the elaboration of its wines.
It commercializes 3 marks:
- Red Sameirás: Of high layer, red color "picota", with dyed tear and violet border. Intense, mature and with much fruit.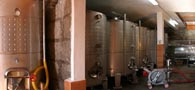 Warm.
- White Sameirás: Clear and shining, with greenish yellow color, golden sparkles. Intense, very expressive, noticeable fruit character, yellow notes of honey and flowers. Balance.
- Vine do Avó. Of pale yellow color, with greenish reflections. It presents/displays a fruit slightly floral aromatic profile. In mouth he is fresh and smooth of medium intensity with a easy and pleasant step.